Live Company Group Plc (LON:LVCG) Executive Chairman David Ciclitira talks to DirectorsTalk about its BRICKLIVE show arriving in Buenos Aires. David talks about the show, its partners, explains what is new & different in this show and what we can expect to see from the South American BRICKLIVE partner EXIM ENT going forward.
LVCG announced that BRICKLIVE has arrived in Buenos Aires with a show that opened on the 19 and 20 May 2018. A further three days are scheduled over the weekend of the 25-27 May 2018 at the famous La Rural Exhibition Centre.
The show features popular BRICKLIVE content including LEGO Safari animals, brick pits including Duplo and Soft Play, racetracks, the ever-popular graffiti wall and a host of build zones made up of LEGO fans favourites including Star Wars, Minecraft, Friends, City and Architecture bricks.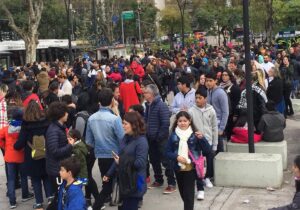 The themed build zones are enhanced by character actors bringing the interactive experiences to life.
BRICKLIVE's licensed partner for Argentina, EXIM ENT, has attracted new sponsors for the Buenos Aires show including Banco Macro, one of the largest banks in Argentina. EXIM ENT is BRICKLIVE's licensed partner for countries in LATAM including Argentina, Uruguay and Mexico, operating on a license fee and working closely with the regional and international Brick Live Group team.
Further content sees BRICKLIVE working with the 501st Legion, Garrison Argentina that will allow Star Wars fans a photo opportunity with their favourite characters in the Star Wars build zone.
Jonathan Hofman, Head of Production for the South American BRICKLIVE partner EXIM ENT said, "We are proud to bring our amazing new BRICKLIVE show to the families of Buenos Aires. It's such a delight to see families playing and building together, no matter what their age. We are excited to welcome even more visitors next weekend before we move onto the cities of Cordoba and Rosario in July."

David Ciclitira: Executive Chairman at Live Company Group, said: "Watching BRICKLIVE events grow and thrive around the world is unbelievably exciting. Following their first show at the end of last year in Campinas, we are excited to now be building a presence in Argentina which demonstrates the universal appeal of the BRICKLIVE offering. The Buenos Aires event is a perfect example of just how diverse a BRICKLIVE event can be. There is something for animal lovers, Star Wars fans, AFOLs and children. BRICKLIVE events have the potential to appeal to a variety of demographics and the Buenos Aires show is proof of this."
Receive our exclusive interviews – Enter your email to stay up to date.