After enjoying a flood of investment in July, the level of new funds finding their way into AIM's Oil & Gas Exploration & Production sector slowed to a trickle in August; nevertheless, there are reasons to be optimistic and, although it remains under pressure, the AIM Oil & Gas Index has mounted a modest rally in recent weeks as the oil price has benefited from upgrades to the outlook for demand growth and a slowing in the rate at which the rig count is rising in the USA.
Boosted by Hurricane Energy plc (LON:HUR) raising £238 million to help pay for an early production system West of Shetland, the total amount of money raised by AIM-listed oil and gas exploration and production companies in 2017 more than doubled in July to £496 million. Unfortunately, this total had barely changed by the end of last month, increasing by just 2.4% to £508 million. It is tempting to attribute this slowdown to nothing more than a summer lull. However, this is not supported by the fact that, at almost £600 million, August represented the second-best month of the year so far in terms of new investment in AIM overall.
AIM Oil & Gas Producers funds raised (£m)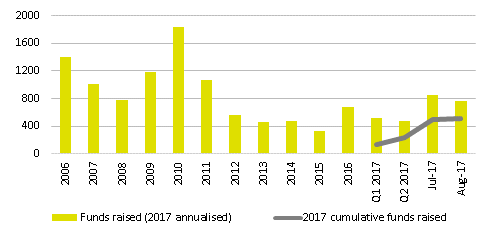 Despite the lack of investment in August, there are some indications that the outlook for the sector is improving. The International Energy Agency has indicated that demand is growing slightly faster than previously thought while the pace at which drilling rigs are being put back to work in North America has slowed. These factors have helped the price of a barrel of Brent crude oil breach US$55 this month – the first time it has done so since April. In turn, there has been a modest rally in the AIM Oil & Gas Index, although it remains under pressure and down by 17% year-to-date.
Receive our exclusive interviews – Enter your email to stay up to date.
Click the EPIC HUR to read the full archive for this company.